Name: Beatrice Di Lelio
Host Organisation: Fraunhofer Institute for Interfacial Engineering and Biotechnology, Germany

Project Title: Particle-based formulations for the intranasal transmucosal delivery of Biopharmaceuticals

Supervisor: Dr. Carmen Gruber-Traub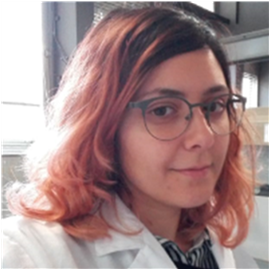 Objectives of the Project:
The overall goal of this project is the development of biomaterial-based particles (micro- and/ or nanoparticles) as effective drug delivery systems for the transmuscosal delivery of Biopharmaceuticals.
The specific goals are:
Evaluation and understanding of the intransal transmucosal delivery of APIs in correlation with the particle characteristics (e.g. particle size, material, preparation method, particle preparation technology);
Control of the release behaviour by further functionalisation and/ or cross-linking of the particles;
Enhanced stability of the encapsulated Biopharmaceuticals.
Secondments:
LENS

Task: Training in characterisation of antibodies release kinetics from nano/micro particles and diffusion rates in hydrogels in vitro
Advisor: Dr. Martino Calamai
Duration: 2 weeks
QMUL:

Task: deepening the knowledge in synthesis and characterisation methods and physicochemical analyses to optimize the particles
Advisor: Prof. Martina Resmini
Duration: 2 months
tbd

Task: Exposure to industrial research environment to learn industrial application of therapeutic and Pharmaceutical analysis
Advisor: tbd
Duration: 1 month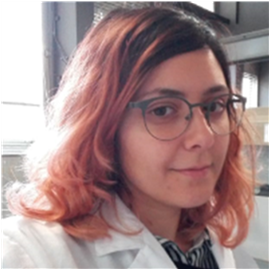 Short Biography:
Beatrice Di Lelio studied Pharmaceutical Chemistry and Technology at Sapienza University of Rome, Italy.
In January 2021 she completed her single cycle master degree after a thesis internship at Claude Bernard University, in Lyon (France). The thesis project was focused on the evaluation of nanoparticles designed to target an overexpressed receptor on the surface of different solid tumors, using 3-D multicellular spheroids made from different cell lines as in vitro models.
In June 2021, she obtained the pharmacist license and was awarded with the Marie Skłodowska-Curie fellowship, joining the Bio2Brain Network. She started her work as ESR1 in October 2021 at Fraunhofer IGB, in Stuttgart (Germany). Beatrice works on the development of a particle formulation for the delivery of biopharmaceuticals from nose to brain, under the supervision of Dr. Carmen Gruber-Traub.